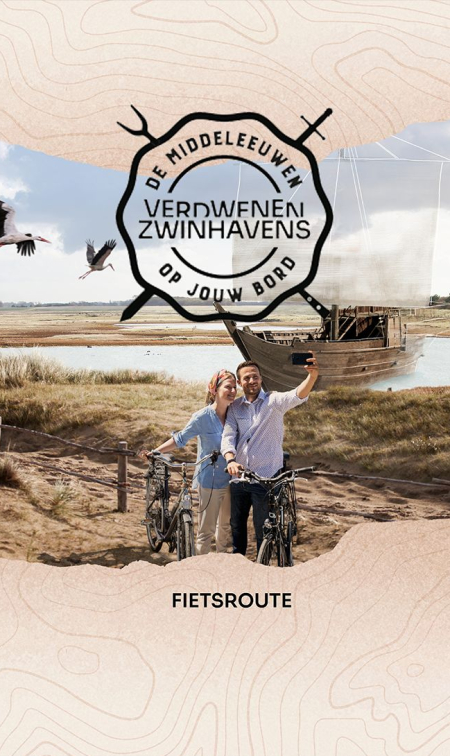 Cycling route - The Lost Zwin Ports
The splendid landscape of the Zwin, as we know it today, looked very different in the middle ages. The wide Zwin channel with its flourishing international ports dominated the landscape.
Bruges and Flanders had their heydays because of their connection to the sea. You can explore this beautiful area between Knokke-Heist, Sluis, Damme and Bruges on your bicycle. With some prior knowledge and the use of our free cycling map, you will find traces of this rich past in the landscape.
Practical information
The cycle route is 60km long in total. There are signs along the entire route and the route can be shortened. To make it even more exciting, scan the QR-code on the cycle map and receive alerts and information on your smartphone when you pass a place of archaeological interest.
| | |
| --- | --- |
| What | Free cycling map in four languages (NL-FR-DE-EN) with a route description and information along the way.  |
| Price | The cycle route is available free of charge and can be done at your own pace. |
| When | as from 3 July 2021 |
| Where | The cycling route map is available free of charge via Westtoer, the Zwin Nature Park and the regional tourist services. |
| Route | 60km, in various stages, starting in the Zwin Nature Park, Sluis, Damme or Bruges. There are indicators along the entire route. |
| Zwin Nature Park | In the Zwin Nature Park, that is along the route, you can get your free cycling map. |
VR-viewers
The four VR-viewers along the way will help you trigger your imagination. Looking through the viewers, you will leave your current surroundings and find yourself virtually amongst the vibrant medieval port cities. The 360° view will make you feel just as if you were part of this long-lost world.
The Middle Ages on your plate
Discover the different flavours while cycling along the Lost Zwin Ports or during your visit to the Zwin region. Be sure to take a look at https://www.brugseommeland.be/en/lost-zwin-ports before planning your cycling trip. You will find the latest information on the culinary venues and dishes along the way!