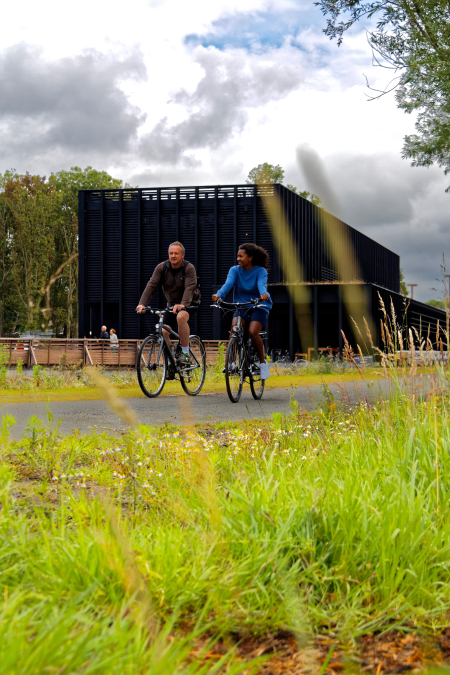 Sustainability, the top priority
Sustainability is the Zwin Nature Park's top priority.
The new Zwin Nature Centre has made a deliberate choice for sustainability. Our ambition is to obtain, at the very least, the BREEAM rating of 'very good'.
BREEAM (the Building Research Establishment Environmental Assessment Method) is an internationally recognized method for building sustainable buildings.
The buildings are designed to manage materials, water and energy as efficiently as possible.
How do we do this?
The wood used for windows, façade cladding and wooden frames comes from sustainably managed forests (wood bearing the FSC or PEFC label)
Some buildings have green roofs, which constitute an extra source of biodiversity and protect the roof covering from UV-light, thus giving it a longer life span
We have water-saving appliances, and use rain water whenever possible
We use energy-saving lighting with motion detectors and daylight control
Our insulation strongly reduces loss of warmth
We use geothermal heating; a water-to-water heat pump is used for heating. In winter, this pump extracts heat from the ground using a Borehole Thermal Energy Storage field (BTES). This field consists of a borehole in which liquid circulates in a closed loop. Through conductivity, it absorbs heat from the ground, which can be used to heat the building in winter. In summer, the system works the other way round. The building is cooled by the colder soil.
Obviously, fauna and flora are taken into account at all times. In order to avoid disturbing brooding birds, the work is carried out in phases, ensuring that no activity takes place during the breeding season in the International Dyke and the Zwin plain.